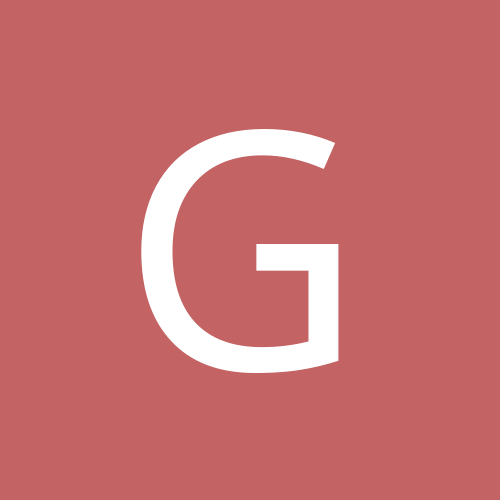 Content count

33

Joined

Last visited
Community Reputation
0
Neutral
About gto
Rank

TSG Super Rookie
Profile Information
Gender
Interests

Golf
Golf Architecture
Golf History
Motorcycles
Bulldogs
Previous Fields
Handicap
Brand of Choice

Whatever works, looking for a backup set

What's in the Bag?

ERC Fusion 9.5* (epon forged) Fujikura Rombax (cracked - looking) Titleist 910 13.5* Yamaha inpresX 5- PW w/Aerotech Steelfiber i95 S Yamaha inpresX 56* SW Vokey 60* Titleist Bullseye putter
I've only hit the Apex, very nice. The nicest looking out of these for me is the Ping i200. You said you loved the G30's, go get fitted with the proper shaft and buy them. As for hybrids, find one you like and compare it to a 3 iron and you'll be sold, easier to hit, higher ball flight, and fun to hit. Calloway apex hybrids are very nice.

Sounds good, I've tried to increase my swing speed in the last few years and all I got was a sore back (bad back - car accident) and more missed fairways and greens. My ss when my body isn't hurting is approx 100, have been up to 107 when its warm (Arizona) and I'm healthy. I started this game when the top players said to swing at 75-80% of your max and it's hard to break a habit that I've had for 30 years. If you have those fast twitch fibers then this might be great for you but at my age I have to be realistic. Also, if you're swinging at 147 I'm assuming you enter the long drive competitions.

I bought a 3 wood at Golf Fest last year and I can bomb this from the fairway or off the tee. It's the real deal, took my 913 3 wood out of the bag.

I was in Scottsdale and went to Cool Clubs and hit them and a couple of other irons. Very nice but the Apex pro's were only 2 yards shorter and a lot easier on the wallet.

If these are still for sale I'll take them, how much with the 60*.

I hit those blades at Golf Fest in Mesa a few weeks ago, loved the irons and almost bought them (heads only, $114 each) but common sense set in as I have 4+ sets of irons. Hit the driver, very nice, loved the 3 wood. Krank golf was the only outfit that had a trackman system out there so comparing with just your eyes was tough. The putter was definitely not a beauty but man did it work, putted for about 30 minutes and never missed any 3-5 footers (my nemesis) but the $509.00 price tag was a bit steep especially when you convert that to Canadian.

I'm with you, give me a small MB with no offset, slim topline and I'm in. Guess I'm a dinosaur as well! I do like the new Hogans but they are on the large side for a blade.

2015 and people still using steel amazes me, I've had people ask me why I play graphite and I then let them hit my irons and most just have this look and usually say that feels so smooth. Matrix Programs in my Adams - very smooth and better than any steel. Aerotech Steelfibers in my Yamaha Impres XV forged - not as smooth as the Programs but very nice. Yonex Tour irons - old set with Yonex shafts and these are the smoothest shaft I've ever hit.

I like clean and simple so for me: 1. Yonex (lose the ezone stamp and I'd order a set) 2. Buchi

I have at last count (try to avoid doing this) a dozen putters. My Kingdom to be able to putt! It's my weakness and it doesn't matter what type of putter I use (between the ears). Most of my putters end up with friends or relatives but I keep a handful for when the one in my bag isn't working. When the putting gets bad I bring out my Bullseye and go left hand low, usually works for a month or so. I have tried every drill known to man and until I can get hypnotized to forget all those bouts of putting woes I just deal with it.

Howdy, dumb question but is that $600 USD or Australian and no cost to ship to Canada. How do you take payment?

Where in the world did you get these?

Not sure where you are but how much to ship to Canada.